July 2001
---
Did You Back Up Today?
We continue to be surprised by the number of people who don't back up their data every day. If the hard disk that holds your data stopped working right now, how much data would you lose?
If you have a file server, perhaps you have redundant disks (known as RAID), so a single disk failure would not cause the loss of any data at all. You still need offsite backup in case of a fire or flood, but that's a less likely event and usually doesn't justify a daily procedure.
RTG Bills and RTG Timer users often enter valuable data every day. We strongly recommend that you review your backup procedures to avoid losing information. RTG's Web site includes a short essay entitled Safeguarding Your Data that you might find helpful.
Finally, be wary of software that backs up your data continuously throughout the day. This may sound like a good idea, and it probably works for word processing documents, but it can cause problems with the relational database used by RTG Bills and RTG Timer.
---
RTG Bills Upgrades
Our policy is to offer frequent upgrades of RTG Bills and RTG Timer so that we can provide new features and fix any problems. We offer free upgrades on our Web site to convert one version to the next one.
Because the upgrades only include the changes between versions, they are much smaller and faster to download than the entire RTG Bills and RTG Timer installation file. Each upgrade file fits on a floppy disk, while the full installation file is about seven megabytes in size and would require five floppy disks.
Thus far, the only upgrade that has not been free was the upgrade from Version 1 to Version 2. At that time, we increased the price of the program, and the upgrade price was just the amount of the increase.
Should you upgrade? We realize that frequent upgrades can be a hassle, so you may not want to upgrade each time a new version is released. It's your choice. Our Support page lists the recent versions with links to separate pages for each one. The page for each version describes what features were added and what problems have been found, to help you make an informed decision.
Any time you want to "catch up" to the latest version, you can buy a CD for $15. We call it an upgrade, but the CD includes the full programs, just as if you were buying RTG Bills and RTG Timer for the first time. The only difference is the price.
---
RTG Bills Version 2.05 Adds New Features
The next version of RTG Bills, to be released soon, adds many new features. You will be able to:
Design a letterhead for your bills, with different font faces and point sizes.
Show total charges to date on the bills.
Import expenses from QuickBooks.
Set a fee or expense threshold, which holds charges until they reach a specified amount.
Here is an example of a firm letterhead designed with RTG Bills Version 2.05: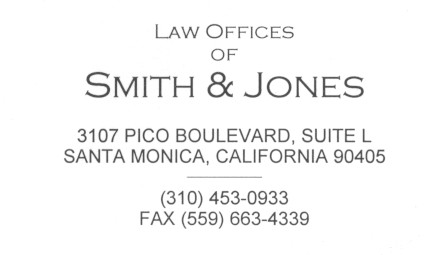 The first three lines use the font Copperplate Gothic Light, in two different sizes, 10 point and 18 point. The remaining lines use nine-point Arial. This design includes a short horizontal line to separate the address from the telephone numbers. To learn more about designing a letterhead, click here.
RTG Bills Version 2.05 will be available as a free upgrade from Version 2.04 if you download it from our Support page. You can also order a new CD for $15.
If you currently use RTG Bills, and we have a valid e-mail address for you, we'll send you a message when Version 2.05 is ready. To update your e-mail address, go to the Customer Contact section of the Support page.
Do you have RTG Bills Version 1? You can still get Version 2 for the special price of only $25. This special offer ends September 15, after which the price will increase to $50.
---
RTG Bills and RTG Timer are trademarks of RTG Data Systems. Other company and product names may be trademarks of the companies with which they are associated.