March 2000
---
New Version of RTG Bills
A new version of RTG Bills was released early this month. Version 1.23 fixes the Quicken import problem described in the previous issue of RTG News. The only added feature: you can change the date format and the currency symbol from the U.S.-standard "month/day/year" and "$".
The "Short Year" format is used for transaction lists on the screen and on bills and reports. The "Long Year" format is used to re-display a date after you enter it and also for exporting data to other programs. The "Bill Date" format is used on the header of the bills.
The Test button checks the Short Year and Long Year formats for consistency with the Windows Control Panel's Regional Settings. The order of the month, day, and year must be the same in both places.
Unfortunately, near month-end some problems arose. The most serious one prevented the "reprint bills" feature from working. Version 1.24 fixes this and some other problems.
Free upgrades from Version 1.22 to Version 1.23, and from Version 1.23 to Version 1.24, are available now on the RTG Web site. You'll find the links on the Support page.
RTG Offers Toll-Free Ordering
You can now order RTG Bills and RTG Timer by calling this toll-free number:
1-877-REGSOFT (1-877-734-7638)
RegSoft.com, located in Atlanta, Georgia, accepts credit card orders for our software. In addition to phone orders, RegSoft.com accepts both fax orders and online orders. Once your order is accepted, you can download the program immediately over the Internet.
Check our Web site for the latest ordering information:
http://www.rtgsoftware.com/borders.php
RTG Bills On CD-ROM
We are now shipping RTG Bills and RTG Timer on CD-ROM rather than disks. CD-ROMs are both faster and more reliable than floppy disks.
Our policy is to offer the RTG Bills and RTG Timer Upgrade to all current RTG Bills customers for $15. This "Upgrade" is actually the current version of the full program. It has the ability to upgrade any previous version of RTG Bills and RTG Timer to the latest version when you install it in the same folder as the older version.
We still offer free upgrades on our Web site. You can upgrade version 1.19 and above to the current version, 1.24, but each upgrade only goes from one version to the next. So if you have version 1.19, you will need to do five upgrades: 1.19 to 1.20, 1.20 to 1.21, 1.21 to 1.22, 1.22 to 1.23, and 1.23 to 1.24.
---
Free Utility: RTG Copy
Do you need to copy a large file from one computer to another? Unless you have a Zip drive or similar large-capacity removable disk, you'll need software that can break up a large file and save it on several floppy disks. This situation often arises when software is downloaded over the Internet.
RTG Copy is a very simple program that writes a large file to floppy disks on one computer and then reads the floppy disks on another computer to recreate the large file. We specifically created it so RTG customers can download the RTG Bills and RTG Timer installation file on one computer and move it to another computer. You can also use it to create a backup copy of the installation file.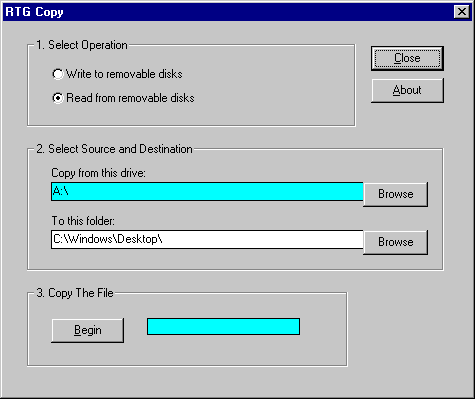 RTG Copy is very easy to use. For copying the RTG Bills and RTG Timer installation file, it is nearly automatic. If it sees the installation file on your desktop, it sets itself to copy the installation file to floppy disks in drive A. If the installation file is not on your desktop, it assumes you want to read a file from floppy disks, and it sets itself accordingly. All you have to do is put a floppy disk in the drive and click the Begin button.
Of course, many other programs can be used for this purpose. For example, Windows 95 and Windows 98 come with Microsoft Backup, and many people use WinZip or a similar archiving program for backups. These programs are more capable, and more complicated, than RTG Copy.
You can download RTG Copy from our Web site at no charge:
https://www.rtgsoftware.com/copy.htm
There you will find complete instructions for downloading and installing RTG Copy. We also provide a list of its limitations.
---
RTG Bills and RTG Timer are trademarks of RTG Data Systems. Other company and product names may be trademarks of the companies with which they are associated.